See on Scoop.it – Almere Smart City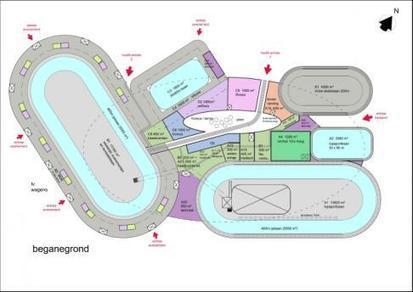 Icedôme, Almere
[EN] Icedôme Almere is dedicated to ice sports, professional as well as recreational athletes and their fans meet in this complex.
The building contains a venue for speedskating and events with 20.000 seats, a venue with ice rink for 4000 seats, a 200m inline skate track, an ice rink for figure skating, an ice rink for shorttrack speedskating and a 400m icetrack for training purposes.
The left half of the building is open to all public and will be used for all sorts and sizes of events (with a focus on ice related events) and recreational skating. The right half of the building is dedicated to training for top level athletes (Olympic level). Both worlds meet in the middle in elliptical atrium, an important gesture to emphasize that sport unites all people. The atrium has a campus-feel to it and is an intimate space in contrast to the wide open Dutch polder landscape. Wood is used to enhance this idea. Largely glass facades give the feeling to average users of the commercial fitness are training together with Olympic athletes on the other side of the atrium.
The outer facades express the individual components of the building and form a powerful image to passers-by on the A6 motorway. Printing and lighting techniques will be used to lighten up the building. Oversized signing is used to guide people and give scale to the building. The main entry is shaped by an inviting large canopy and lots of glass. The complex is crowned by a ring of orange flares, referring to the Olympic flare as well as our national Dutch color.
See on www.ae-architecten.nl